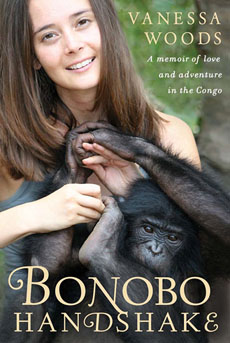 Bonobo Handshake
Winner of the Society of American Travel Writers Lowell Thomas Award 2011
A young woman follows her fiancé to war-torn Congo to study extremely endangered bonobo apes—who teach her a new truth about love and belonging
In 2005, Vanessa Woods accepted a marriage proposal from a man she barely knew and agreed to join him on a research trip to the war-torn Democratic Republic of Congo. Settling in at a bonobo sanctuary in Congo's capital, Vanessa and her fiancé entered the world of a rare ape with whom we share 98.7% of our DNA. Vanessa soon discovered that bonobos live in a peaceful society in which females are in charge, war is nonexistent, and sex is as common and friendly as a handshake.
A fascinating memoir of hope and adventure, Bonobo Handshake traces Vanessa's self-discovery as she finds herself falling deeply in love with her husband, the apes, and her new surroundings. Courageous and extraordinary, Almost French meets The Poisonwood Bible in this true story of revelation and transformation in a fragile corner of Africa.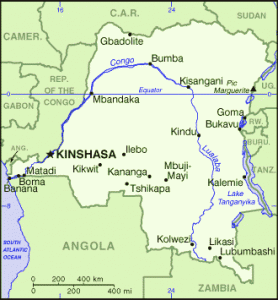 Bonobos
Although bonobos are our closest living relative, we still know very little about them. What we do know is that there aren't many of them left – as few as 10,000 left in the wild, making them the world's most endangered ape. Bonobos only live in one country, the Democratic Republic of Congo, which has seen the bloodiest war since World War II.
Thousands of species are endangered or in decline, so why should we care in particular about bonobos? Bonobos are the better part of ourselves. They are so closely related to us, and they have learned to live with very little violence. If we lose bonobos, we will never understand how they manage to live in a society without war. And because they share so much of what makes us human, if we lose bonobos, we will never understand ourselves. If you would like to help bonobos, please visit www.friendsofbonobos.org
Note from Vanessa
In Bonobo Handshake, I may be the protagonist, but I am not the real hero. For over 15 years, Claudine André has fought for the conservation and welfare of bonobos in Congo. Not only did she establish Lola ya Bonobo, the world's only bonobo sanctuary with over 60 orphans from the bushmeat trade, but more than anyone else in the world, Claudine has worked tirelessly to convince everyone from Congolese hunters to politicians that bonobos are a national treasure worth protecting.
Like bonobos, Claudine is virtually unknown in America and the English speaking world. I hope Bonobo Handshake, besides introducing our wonderful long lost cousins, will also pay tribute to a woman with more courage than I ever thought possible, and my first encounter with a truly selfless heart. VW, December 15, 2009